Dear parent! Welcome to the Hi Rasmus platform. The future of collaborative therapy provided by the world's leading clinics.
Autism treatment programs are unique by nature and it can be difficult for parents to retain an insightful overview of their own child's development. Not least to participate actively in therapy.
Objective
The purpose of the Hi Rasmus app is to provide you with an easy way to participate and collaborate with your clinic. To make it easy and fun to help your child grow and track progress.
Signing up
You will receive an invitation via e-mail with a link to sign up to the Hi Rasmus platform. You will be asked for your name and you will have to add a password to your user account. It is important that you sign up using the e-mail that you have received the invitation on, otherwise you will not be able to access your child's profile. If you need to use another e-mail please let your therapist know and they will send you a new invitation.
Once you have signed up you will receive an e-mail with a link to verify your e-mail address. For security purposes you have to click that link before you can access your child's programs and profile.
What will you see on your child's page?
Programs and Objectives
The behavior analyst has already made a thorough analysis of your child's strengths and areas for improvement. Based on this some skill-based goals (Objectives) have been determined. A detailed program of how to teach towards mastery of that program has also been tailored to your child.
Targets
To master a program the child must be able to independently master a number of partial skills or behaviors. These are the Targets of the program. As the child moves towards mastering more and more targets of a program, they child will be able to use the acquired skills and targeted behaviors independently in their daily life.
Sessions
A session is a series of programs being taught to the child. The BCBA can set up one or more sessions for you to work on at home with your child. During a session you will record data and take notes as necessary in order to provide real-time feedback to the BCBA. This data is being collected and used for tuning your child's therapy.
Overview of your child's therapy
Visit app.hirasmus.com to access the platform.
After signing in you will see the scheduled sessions and your child's current programs.
In the Programs section you can see what objectives you child is currently working on and how the progress is on each. The colored icons in the bottom of each program represents how many targets the child currently masters (green), is learning (blue) and are being assessed (yellow).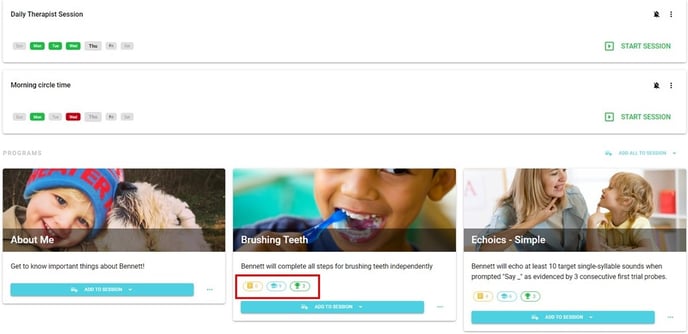 Running a Session
If you are actively participating in your child's therapy you will see a scheduled session on the top of the page. Click Start Session to start working with your child. Be sure to talk to your BCBA or watch a training session with your child before you start working on your own. The BCBA can guide you on how to make it fun and motivating for your child to work and acquire new skills.
Before you actually start working and taking data, you will see a Preparation Page. On this page you can read about each program you will teach your child by clicking on the program. You will then see the instructions, targets, and any materials you might need.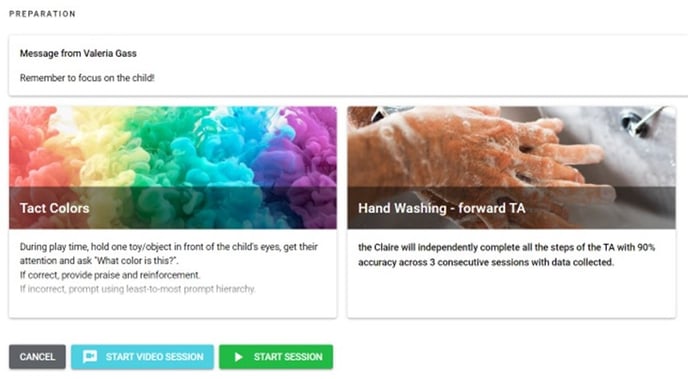 Click Start Session when you are ready to start. Now follow the instructions to teach each target. Every time you teach a target, click the target and then click the outcome to record data. It might be a bit tricky to keep track of it in the beginning, but if you start with a simple and easy program you will quickly get used to recording data.
The data is important for the BCBA as it will be used to continuously monitor and adjust the intervention for your child's benefit.
When working with your child your focus should be on making a fun and motivating setting for the child. However, if you need to refer to the instructions during the intervention you can simply click the Instructions button in the upper right corner. The instructions are maintained by your therapist so if you have any questions regarding these please let him or her know.
Undoing Incorrect Data
If you add data by mistake simply click Undo and your last data entry will be deleted.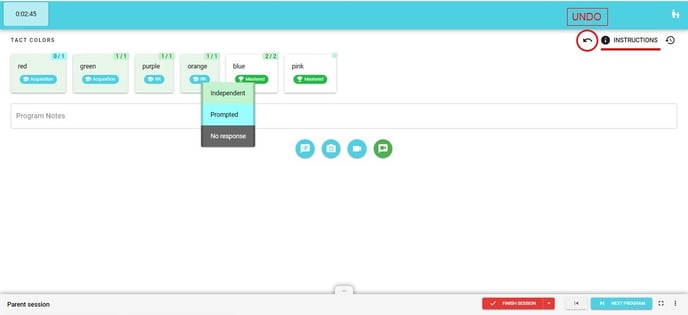 We would love to hear if you have any comments or feedback regarding the Hi Rasmus platform. Just let us know by contacting us.