You child's supervisor will work together with you to teach your child life skills to prevent the emergence of problem behavior
Dear parent! Welcome to the Hi Rasmus platform! The future of collaborative therapy provided by the world's leading clinics.
Autism treatment programs are unique by nature and it can be difficult for parents to retain an insightful overview of their own child's development. Not least to participate actively in therapy.
Objective
The purpose of the Hi Rasmus app is to provide you with an easy way to participate and collaborate with your clinic. To make it easy and fun to help your child grow and track progress.
Navigating Balance Home Page
On the top of your child's home screen, there is a Daily Parent Session that has been created by your child's supervisor. The Balance Daily Parent Session is a way for you to communicate and upload videos of your child's progress. During a session you will record data and take notes as necessary in order to provide real-time feedback to your child's supervisor. This data is being collected and used for tuning your child's therapy.

Reviewing Balance Program Instructions
Before you record an activity for your Balance Daily Parent Session, you may want to review the Instructions for the step you are currently working on. To do so, click on the picture to the left of the Daily Parent Session Title where it says, Welcome or Step 1, etc.
A pop up window will appear where you can review the instructions on how you should be working with your child. You will see videos as well as written instruction. Please reach out to your child's supervisor should you have any specifics on working with your child.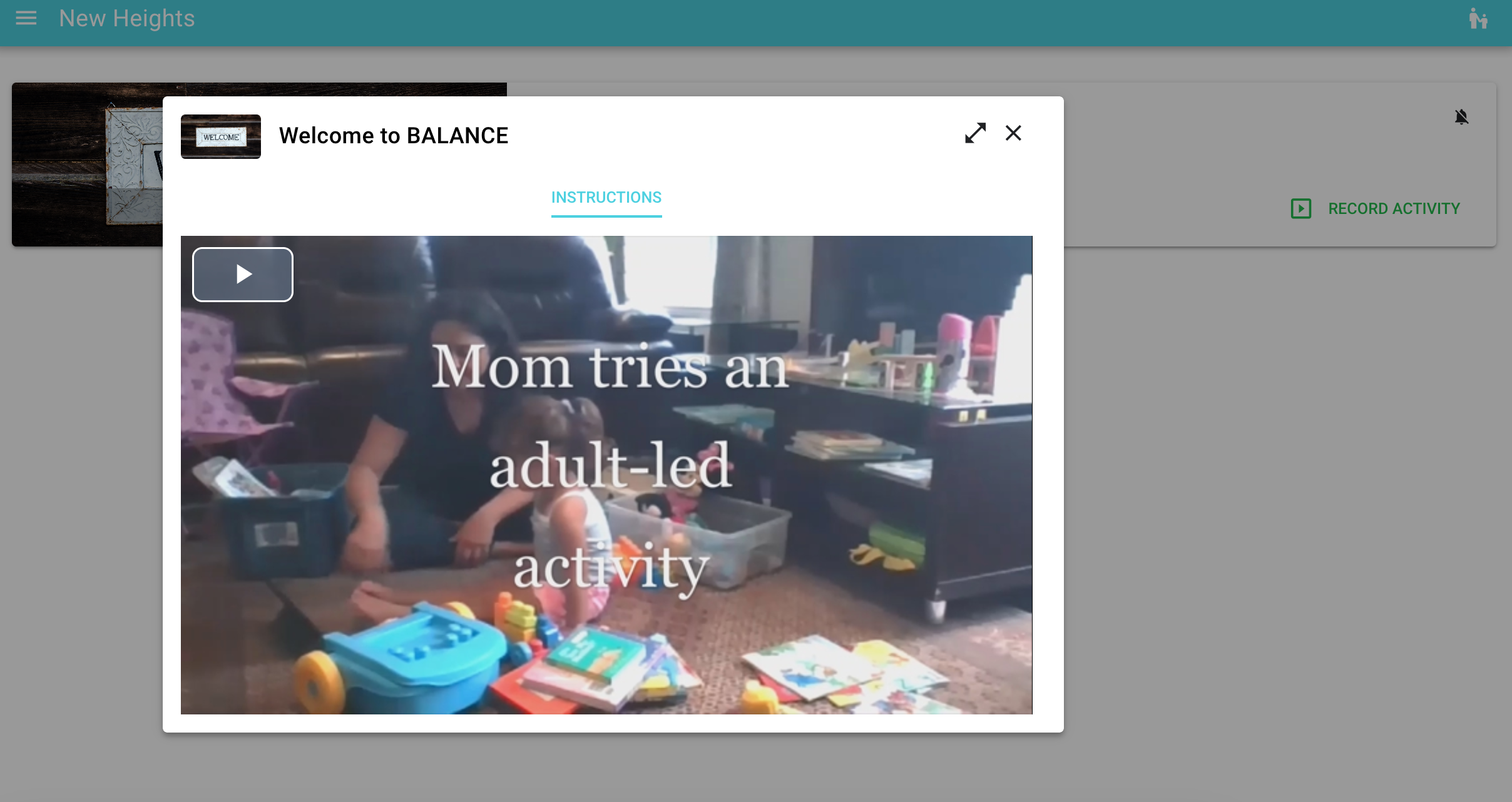 Recording Parent Activity
When you are ready to record the activity for your work with your child, select record activity.
A pop up box will appear for you do first note with an emoji, how the practice session went. Choose accordingly.
There is an option to type any comments/concerns for your child's supervisor to review.
Upload the video you took by pressing attach video.
Select Save. Your information has been sent to your child's superview to review and provide you later with feedback.
Reviewing Feedback from your Child's Supervisor
Your child's supervisor may make comments and/or ask questions on a parent activity you submitted. You will receive an email linking you to the specific comment(s) provided by your child's supervisor.
1. Open email from Hi Rasmus that has the subject "New Message on Hi Rasmus"
2. Click on the link that says: open message

3. A new window will open up to Hi Rasmus where you will need to login.
4. It will immediately take you to the comment/feedback page where you can review and comment back if necessary.

Was this article helpful?
Yes No