Organize programs by domains or treatment areas in your organization's treatment plans, on you client's home page, and on your progress page
Visit Settings > Treatment Plans > Treatment Areas.
Here, you can set up areas for structuring your treatment plan, including parent treatment areas and sub-treatment areas.
Select the "Add Treatment Area" button. Here, you can add a label for an overarching treatment area (i.e. "Section X of DSM-5", "Academics", etc.) , as well as the label for the subsection (i.e. "Domain", "Subcategory", "Subject", etc.).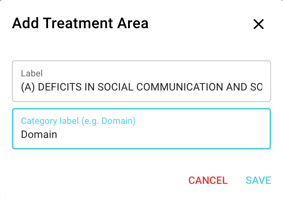 To add additional domains, select the Treatment Area title, then "Add Domain".
Below you'll see an example of a treatment plan that has been organized using areas of the DSM-5 as parent categories, and domains as sub-treatment areas.
Edits
To move domains/subcategories, simply select the 6 dots that appear to the left of each title and drag to the desired destination.
To change or delete any text, select the edit pencil to the right of the label.
How do I assign a treatment area to a learner's program?
When editing a learner's program, select the "Treatment" tab (the first tab furthest to the left). Here, you can select the treatment area and subcategory you want to define that program by. You also have the ability to define your learner's baseline levels and objective/goal. All fields from a Program's treatment tab can be pulled into a treatment plan.