Need to run a telehealth session? We have a way!
Get Started
From your Home

page, find the session you would like to start and select Start Session.
Preparation Page
Review instructions and targets assigned within each program. You will have an opportunity here to gather appropriate materials and set up the environment for the session before it starts. Choose

when you're ready to begin.
Invite Participants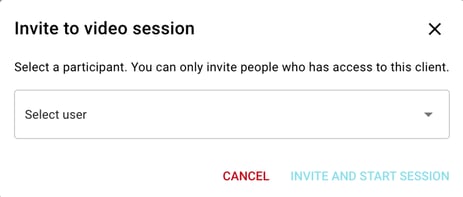 You will be prompted to select a participant to invite to the video session via a drop-down menu titled Select User. It should be noted that you can only invite those who have been given access to that client on the platform. (To extend this access to others, follow these steps before starting a video session.) Once your chosen user is selected, click "INVITE AND START SESSION."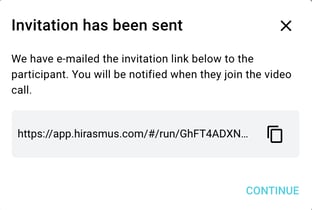 Your fellow participant will receive an email as well as a push notification from their Hi Rasmus app with an invitation link to join the live session. At the screen above, you can access the link if necessary and then select "CONTINUE" to proceed to the session.
Video Controls
Once in the session, both users will be able to see live video streaming of one another along with the session data. On a computer, the video will sit on the right side of the screen, whereas on a phone interface, the video component will sit below the programs.
The inviter will have control of the session and be able to control mute, video, and connection of the other participant if necessary. The icons in blue can be used to control your own audio and video accessibility. To end the video component of the call, select the red

icon.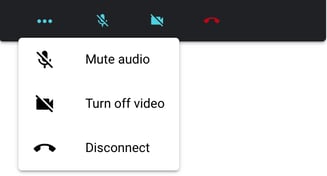 Ending your session
To finalize your session, simply select Finish Session. Confirm that you want to end by clicking on OK. You will automatically be brought to a summary of your session's data; here you can add any necessary documentation in Session notes, using a template and any combination of writing, files, and video formats.