Get started
From your Home

page, find the session you would like to start and select Start Session.
Preparation Page
Review instructions and targets assigned within each program. You will have an opportunity here to gather appropriate materials and set up the environment for the session before it starts.
Choose

at the bottom when running an in person session, or select the icon on the bottom right side

.
If you are running a telehealth session, you click on

.
Timers
The session timer will automatically begin at the start of the session. Timers for frequency programs have the option to start with the session timer, by selecting

, and timers for duration programs will begin when you record a response for the first target or when manually initiated by the user.
Switching Programs
There are 3 different ways to switch between programs. You can run through programs sequentially in the given order, selecting Next Program

when you are ready to move on. The square by the blue bottom will open all the programs in the same page.
If multiple programs need to be run concurrently throughout the session, you can select the tab

at the bottom of the page to quickly alternate from one program to the next.
Any targets that have been pinned by the session creator will appear on the top of the screen.
Recording ABC Data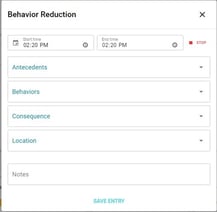 To collect ABC data during a session, click on the

icon on the top right of your screen and the Behavior Reduction page will appear.
The timer can be used, or start and end times of behavior episodes can be manually entered.
Select behaviors within each category that has been set up using the drop-down boxes. Click on Save Entry below to record the episode and continue with your session.
Undo
Record the wrong prompt level? No problem! Click the Undo button and adjust as needed.
Pause your session
In the event that you need to pause the session, simply click on the running session timer on the top left of your screen. Select OK when you are ready to resume.
Program Notes
Record any program-specific notes at the bottom of a program during your session. Photos can be added to supplement your notes by selecting the camera icon. Videos can also be added here by selecting the video icon.

Ending your session
To finalize your session, simply select

. Confirm that you want to end by clicking OK.
If you have a note template attached to the session, the note will automatically pop up for you to complete the note. Once you finish the note, you will be brought to a summary of your session's data
If you don't have a note template attached to the session, you will automatically be brought to a summary of your session's data. Here you can review the data taken during the session and review the session note.
At the end you will have the opportunity to sign and to request a signature

.