Make session notes less tedious by using our session notes template capabilities with dynamic, customizable fields.
The dynamic fields will pop up in your user's browser with your own customized prompts to ensure that all of the necessary details are included in your client's notes. Once a therapist has efficiently made their selections and entries, they can generate a session note that is cohesive and thorough.
Create a Template
To create a Session Note Template for your organization, from your menu, select

Settings > Sessions > Note Templates. Here, you can edit an existing template or create a new one.
To create a new template, click on

. Any consistent titles, phrasing, or statements can be typed directly in the session note. To improve the end user's experience, we highly recommend using Dynamic Fields and the custom feature to prompt responses and generate a cohesive session note.
Dynamic Fields
To insert an existing Dynamic Field into your note, above the text box, find and select the drop down menu titled "Dynamic Fields".


These have been sorted into categories such as Client, Session, User, etc. Click on the field you would like to insert, and it will be added to your template with a teal background to denote that it will be auto populated from your client's profile.
Custom Dynamic Fields
You can also create custom fields to generate more informative note content.


These fields often include prompts for therapists pertaining to details such as people present, clinical status, session summaries, and interventions used.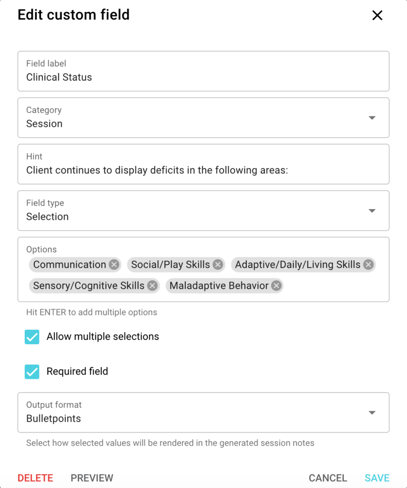 Field label: This will be the heading that your therapist will see.

Category:

Organize your dynamic fields for future use by selecting the most relevant category. If none of the current categories apply, you can type and enter to add a new one.

Hint:

Use this field to instruct your therapist with what to include in their response. Remember, this hint will not be seen in the end product session note, so feel free to add any pertinent prompts.


Field type:

Choose "Text" (free-typing) or "Selection" (List format).

Text: You have the option to allow multi-line text or keep it at one line.
Selection: Type options available (hitting ENTER after each one). You can opt to allow multiple selections by checking the box below.

Session Data Table: You can select the session data outcome per target that you want to appear in the session notes. Multiple columns for the target data table can be pulled into the notes. You can select from the following information:
- There is also an option to have any specific program data notes and/or supervisor notes pulled into the session data table
*supervisor notes is only available on a premium subscription- you can save any custom data fields you create to the library to re-use in any other session note template
Required field:

Check this option if you would like to require that this field be completed each time.
There's 3 final optional selections with the overall session note template:
require signature from therapist
Require signature from additional people

if you are going to require a signature from a supervisor, parent, teacher, etc., you will want to be sure that user is selected as that staff member on the client's information tab in their profile. This information is considered a custom client data field. Click here to view how to update that information.

Limit to certain activity type

this is helpful to select if setting up session mapping for staff only appointments with the Lumary integration
As you compose your custom field, you can see what it will look like for the end user by selecting "PREVIEW" on the bottom left-hand corner.
Once you've completed your custom field, remember to select "SAVE". This custom field will now be accessible from your menu of dynamic field options.