Looking to use whole or partial interval data collection methods to measure behavior? You can easily set up a program to prompt therapists, teachers, and parents through the process!
Partial/Whole Interval Recording
From Programs

, click on "Add Program", and select Interval from the drop-down box. The basic set up (Instructions, Treatment, and Targets) are similar to Skill Acquisition Programs.
Data Recording - Select the workflow for mastery (see more about workflows here). Then you can select the prompt level template you would like to use. Typically, a template with two options available would be used to document occurrence/non-occurrence (Examples; Yes/No, +/-, Observed/Not Observed). Next, determine the time for each interval and select the default observation status.
The default observation is the response that will remain for the interval unless an observation is recorded (for partial interval programs, this would typically be your non-occurrence option such as No, -, or Not Observed).
If you would prefer to not have a default response (showing a blank space in the data if, for instance, there was no opportunity for that behavior), simply select the

icon to remove the default selection.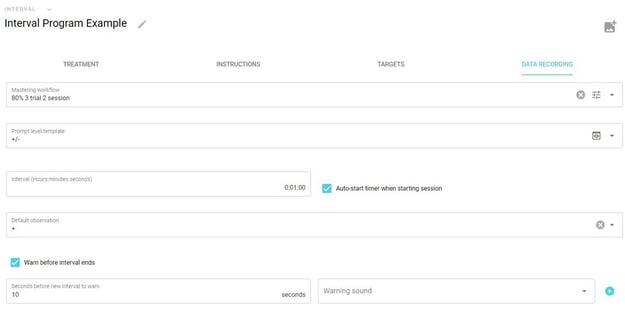 As shown above, you also have the option to choose whether you want to interval timer to start manually or automatically when the session begins. You can also opt for an audible warning sound to let you know that the current interval is almost over by selecting Warn before interval ends and adding your timing preference (in seconds) for this warning and the option to specify what sound you would like to alert the user. You can hear a sample of the various sounds by selecting them then pressing the neighboring play button.